Introduction
We hear from a fantastic line up of speakers who present and share experiences of the increase of temporary active travel interventions and strategies during the pandemic in Europe, and how these can shape the way for future long-term measures and solutions. By coming together and learning from each other, it may be possible to keep this momentum going – to transform temporary solutions into more permanent implementations and accelerate the development of sustainable active travel infrastructure across Europe.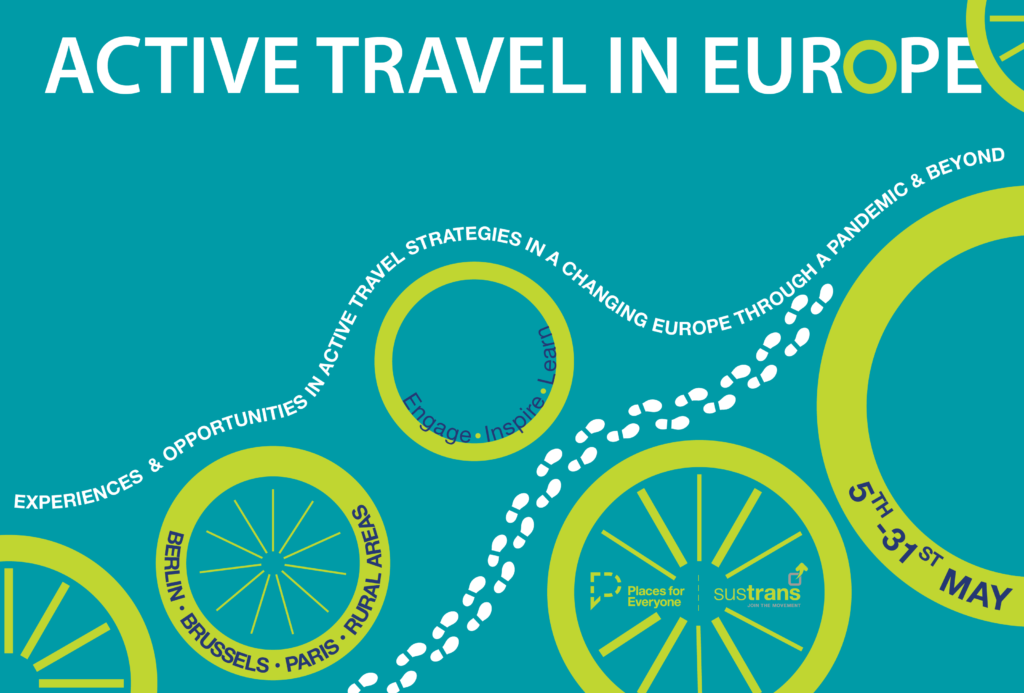 Paris
Clotilde Imbert, Director of Copenhagenize France, presents case studies from Paris, a city that has seen an increase in temporary cycle paths but also a high increase in cycling since the beginning of the pandemic. In addition, the mayor of Paris, Anne Hidalgo, has an ambitious strategy, 'Plan Vélo' to transform Paris into a cycle-friendly city.
According to European Cyclists' Federation, since the pandemic, France has added €300m in funding for the country's cycling infrastructure. In the opinion column, 'A unique opportunity to speed up the implementation of bicycle plans' on Copenhagenize's website, Clotilde expands on her view of the possibilities and strategies that she believes should take place as a next step in creating permanent active travel infrastructure in France.
Brussels
Florine Cuignet, Policy Officer of GRACQ, shares how GRACQ represents cyclists and promotes cycling in the french-speaking parts of Belgium. According to European Cyclists' Federation, Brussels is one of the cities that implemented the most cycle lanes during the pandemic in Europe. In addition, the country added almost €480m in their cycling infrastructure budget in response to the pandemic.
Last year the Belgian federal government, for the first time, published a cycling action plan for the country. The plan consists of 52 action points that will facilitate and promote cycling, which will be implemented by 2024.
EuroVelo
Ed Lancaster, Director of EuroVelo at the independent non-profit association European Cyclists' Federation, presents case studies from rural areas in Europe. EuroVelo (European cycle route network) is a cooperation between different national and regional partners. The aim is to ensure that there are very high quality European-grade cycle routes and networks across Europe.
In January, EuroVelo presented the news that cycling on the EuroVelo routes have continued rising since the pandemic. In addition, ECF is also partner for the cross-border BIGIMUGI project that 'aims at developing cycling mobility for all in rural areas situated along EuroVelo 3'.
Berlin
Ragnhild Sørensen shares more about work that the Berlin-based organisation, Changing Cities, do. As many other cities, Berlin has created pop-up cycle lanes during the pandemic, something that has not been appreciated by all political parties. The pop-up cycle lanes were monitored and developed according to feedback. The organisation has also launched the campaign Kiezblocks in Berlin, where more than 50 local initiatives want to limit the permeability of the road network for motorised individual transport (MIT) while prioritising walking and cycling on non-arterial streets. Kiezblock is a strategy for transformational urban adaptation, initiated by locals.
Panel Session
In this panel session, we welcome back all keynote speakers to answer pre-submitted and unanswered questions. The panel session will also include discussion around key themes identified throughout the series, including:
– Shared learning
– Behaviour and culture
– Opportunities and constraints