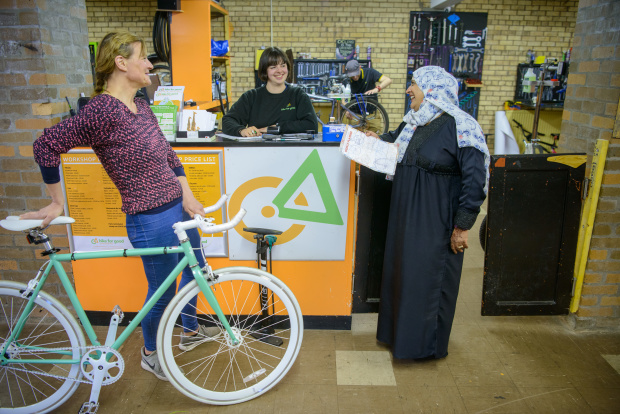 A proactive approach to reaching new audiences has seen a surge in the number of people trying cycling for the first time along the South City Way in Glasgow.
The South City Way project is a partnership between Glasgow City Council and Sustrans, funded through Transport Scotland. The 3km route, from Queen's Park into the City Centre, seeks to rebalance the streets in favour of people walking and cycling and to make journeys in the area more pleasant.
Local charity Bike for Good were funded by Glasgow City Council to deliver behaviour change measures before and during construction of the project.
They offer bike recycling, cycle training, outreach activities and maintain the city's Nextbike public bike hire fleet.
The charity has strong partnerships with local organisations around the cycle route and provided tailored support activities to different audiences.
Focused Impact
Bike for Good's purpose was clear: to reach people new to cycling and help them to overcome their barriers to being more active.
By organising a wide range of events that mixed food, music, films and socialising they reached people who would not have been interested in purely cycling-focussed activities.
As a result, two-thirds of cycling activity participants were new to cycling.
Removing barriers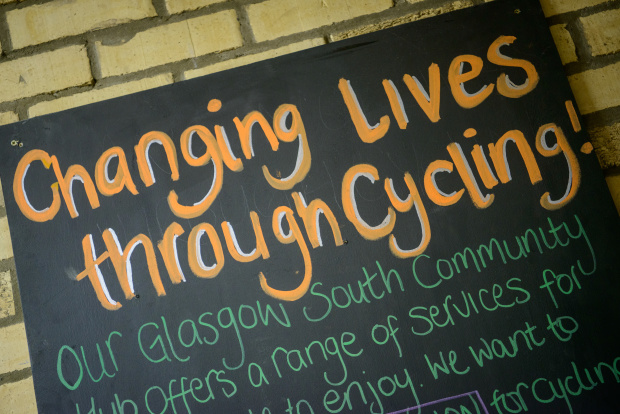 Bike for Good worked hard to make it easier for more people to come along to their engagement sessions.
The sessions are free to attend and the charity proactively took their services to different areas along the route.
As well as reaching new audiences by partnering with other organisations working on health, integration and rehabilitation programmes, they offered activities for specific audiences including:
Women only rides and cycle skills training
Kids afterschool club with occasional trips away
"Spokes Not Blokes", a monthly maintenance session for women and non-binary people
Finally, Bike for Good also ran a pilot project aimed at giving people affordable access to bikes. Aimed at people on low or no income and population groups who are less likely to cycle the "Bikes for All" pilot provided access to Glasgow's Nextbike public hire scheme for £3 year – a discount of 95%.
This meant that as well as Bike for Good activities being accessible to a wider range of people, they have increased their understanding of ways to effectively encourage participation in cycling among under-represented and minority population groups.
In a two-year period (July 2017 – July 2019), 414 people were signed up, representing 8% of all new annual members of the nextbike scheme in Glasgow during this time. In the same period, 10,253 bike rentals were made by Bikes for All participants, representing 2.3% of all nextbike hires in Glasgow. (from the Bikes for All impact report, November 2019).
Key learning
Tapping in to existing social and support networks helps increase engagement with a bigger range of audiences, especially those who may be seldom heard.
Activities that encourage people to use new infrastructure should be tailored for different target groups or individuals. As a person starts to make more journeys by bike, their needs will change. This means that there needs to be a range of ways to support them.
Local Authority Support
Glasgow City Council provided funding to Bike for Good through Smarter Choices Smarter Places funding. This two year agreement has enabled them to provide a visible and welcoming community space to promote active travel to those living and working around this new route.
The targeted use of this fund to support this significant new route is to be commended. It has supported and complemented the changes to the built environment carried out by Glasgow City Council and, by coming from a trusted, local organisation, will help lead to longer, more impactful changes in the community.
Key learning
Just as individuals will have specific active travel needs, different infrastructure projects will require different approaches to how they encourage people to walk and cycling more in the surrounding area.
Based on the reported success of Bike for Good's activities, a relatively small investment in providing support activities can have a large impact. The number and type of people using the route will be key measures of success, so the benefits of supporting a wider audience to be cycle-ready are clear.