Clackmannan Development Trust was established to regenerate the town and make it a better place to live, work and visit.
A public consultation identified two key priorities for the group. Firstly, to make the town a more attractive place to spend time with and secondly, to improve links for people travelling by foot and bike.
A portion of £2.2million of funding was awarded to the Trust and Clackmannanshire Council through the closure of the local power station. This was used as match funding to work with Sustrans through its Places for Everyone fund.
This resulted in wider pavements, new trees planted, cycle parking installed and traffic restrictions at peak times outside Clackmannan Primary school.
Although the Trust's remit was much wider than encouraging active travel in the town, they recognised how promoting walking and cycling activities could complement their other aims and objectives.
"The achievements of CDT to date and their ambitious but deliverable programme shows that when communities and local authorities work effectively together, even smaller communities can achieve sustainable and prosperous futures"

Alan Murray, Traffic & Transportation Team Leader
Transforming the school run
To help encourage children to travel actively to school along the new route, the Development Trust set up 'Saddle Up Clackmannan'. This led to:
The training of six volunteer ride leaders, who lead monthly rides to promote local routes
Regular cycle confidence and maintenance sessions
A fleet of bikes available to borrow free of charge.
Inspired by the popularity of the project, the Trust then applied for funding from Smarter Choices Smarter Places Open Fund to employ an Active Travel Coordinator.
The Coordinator delivered in-depth, tailored behaviour change programmes throughout the town. This helped encourage all residents to travel by foot or bike for more of their everyday journeys.
Key Learning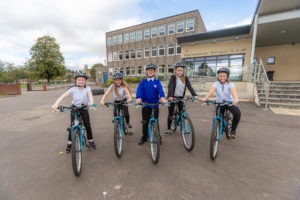 After a new route has been built, it is important to think about how people may be supported and encouraged to use it.
Community based organisations, such as Development Trusts or charities can be well placed to help.
These activities don't have to be led by a group that only focus on cycling or physical activity.
Even if there are currently no cycling or walking groups in an area, it doesn't mean that there is not the desire or capacity to carry out active travel activities. Organisations working in other sectors will also have local knowledge and could be well placed to lead on these.
Next steps
Through the regeneration of Clackmannan, the Trust have developed a strong working relationship with the Traffic and Transportation team at Clackmannanshire Council.
The two groups share a long term vision for active and sustainable travel in the community. The Trust are now working with the Council to see if it would be possible to create new paths linking Clackmannan to other towns.
By creating a culture where it is normal to travel by bike or on foot, the Trust hope to show there is local demand for these projects.