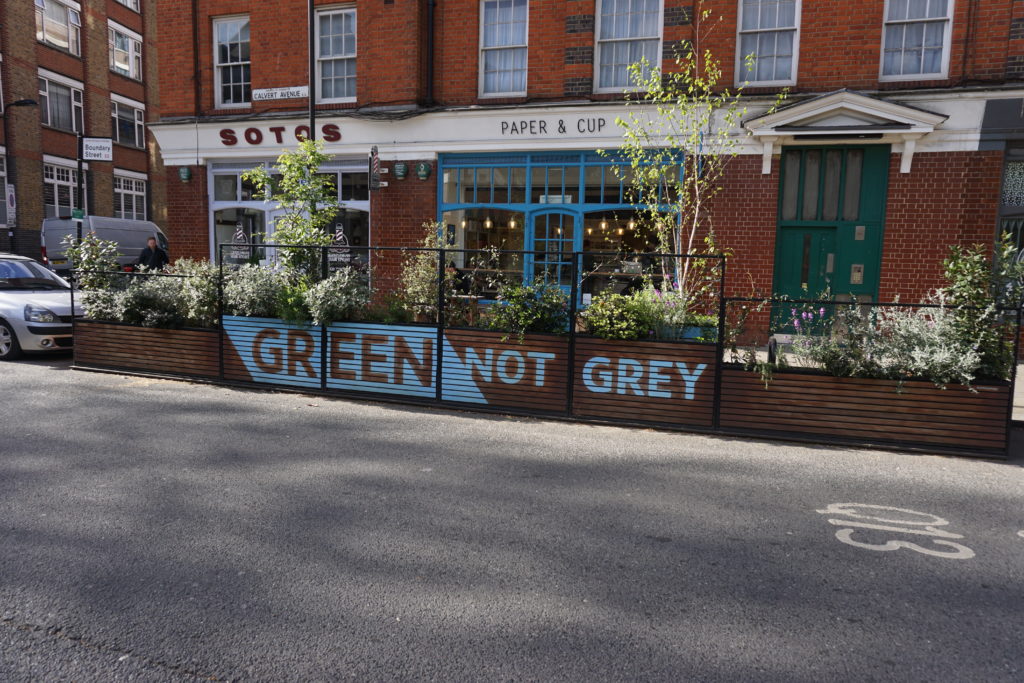 Shoreditch is not the first area of London you think of when you think "parks". Shoreditch High Street is a hub of trendy shops, with high tech start-up stretching off to either side and on fleek bars peppering the area. It's the place to go in London for an artisanal coffee or a craft beer rather than relaxing in the sun.
In 2017, the urban greens and design agency Meristem was commissioned by three local authorities to create a modular system which would bring park life to Shoreditch's Calvert Avenue. Taking over just two parking bays, an outdoor seating area for up to fourteen people was created outside the paper&cup coffee shop. .
The seating alone isn't the biggest impact on the local area. The parklet contains twelve meters of planters with hardy shrubs, which screen the seats from the road and help to adsorb pollution in the local area. There are also two trees providing shade and increasing urban biodiversity, as well as parking for eight bikes.
The new seating created by the parklet provides more space for customers visiting local businesses and encourages people to linger in the area, helping the local economy. More cycling spaces encourages people to cycle or use public transport rather than driving to their destination.
A Parklet for People
The Shoreditch Parklet is one example of what can be done in a small space to open it up to the community. Temporary parklets, as Friends of the Earth created on George Street, Edinburgh, can help show the impact that reduced traffic can have on an area, while we can support the creation of permanent or semi-permanent parklets through the Community Links scheme, to let communities create a new space for relaxation.
Please get in touch if you would like to find out how a parklet can be added to your town, street or village through Places for Everyone.