Run by Crossroads Youth & Community Association, The Barn is a space for young people in Laurieston and the Greater Gorbals to relax, have fun and receive the support that they need.

Youth Workers at the charity had been looking for a bold and creative way to make their organisation a destination point, in a way that also included the local community.

Their application to the South City Way Small Grants Fund proposed installing an artwork designed by young people in the area on at the front of their building.
Creative Planning
Created to inspire local community and charity groups to propose new gathering places and artworks along Glasgow's South City Way, the Small Grants Fund offered these groups the chance to apply for a share of over £100,000 to fund their projects.

The funding inspired local young people to tour the murals and street art around Glasgow in order to develop their own ideas. This took them along cycle paths and into unfamiliar parts of the city that they wouldn't usually see.

The group then put their designs together for the new collective artwork on Abbotsford Place. A local artist was recruited to help with this process as well as to assist with spraying the final piece on the wall.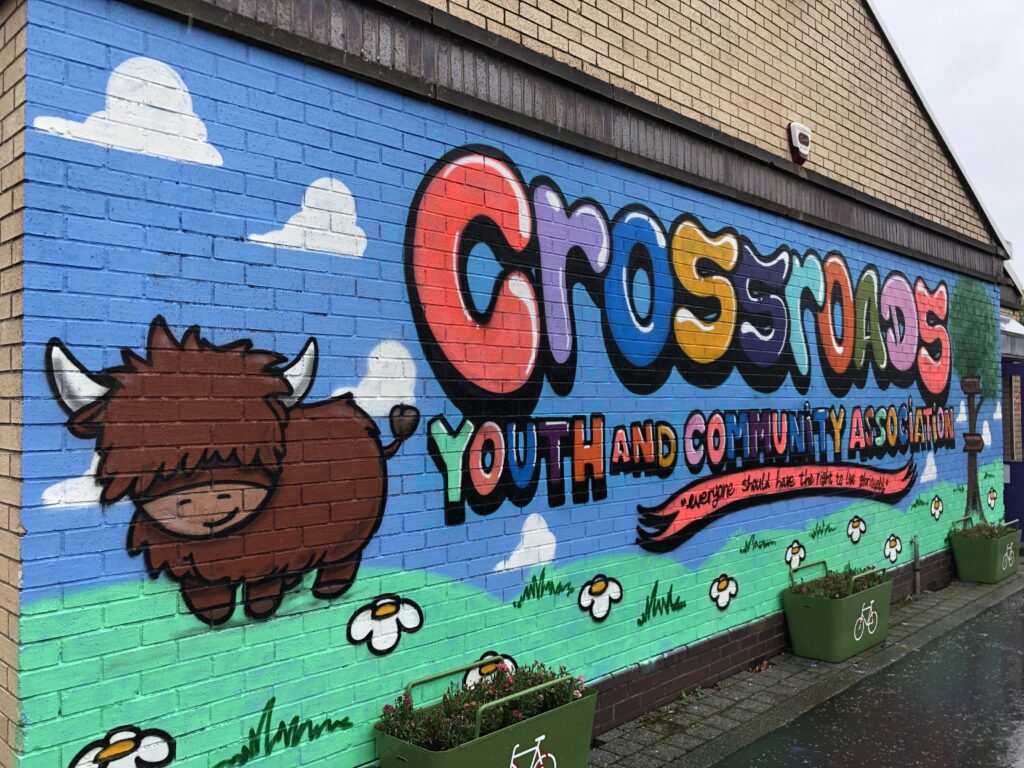 The completed piece sees the community group's name Crossroads and Youth Community Association spread across the wall against the backdrop of a pastoral meadow. A quote from the group's founder, Geoff Shaw, is also included, and reads: "Everyone has the right to live gloriously!"
They also installed planters and bike racks at the front of the centre.
Local Impact
Crossroads and Youth Community Association youth worker Nick Miller, saw The Barn project through to completion from the start.
'Now you're just drawn to the building, and through that we've had people dropping in and grabbing teas and coffees. We've had people taking photographs of stuff, and just leaving a couple of pounds donation. So hopefully it just draws more people to the building'.

Nick Miller, Youth Worker, Crossroads Youth and Community Association
Sustrans Officer Michael Melton, is delighted with the enrichment of the South City Way.
"The Barn stands out now as a safe and creative hub for young people to gather. The mural is a really valuable addition to the South City Way route and a great example of exactly what the Small Grants Fund is for".

Michael Melton, Infrastructure Coordinator
This piece is part of a series on the South City Way Small Grants Fund. This fund was created to inspire community groups and charities to design artworks and gathering places which encourage walking and cycling. Find out more about the South City Way.