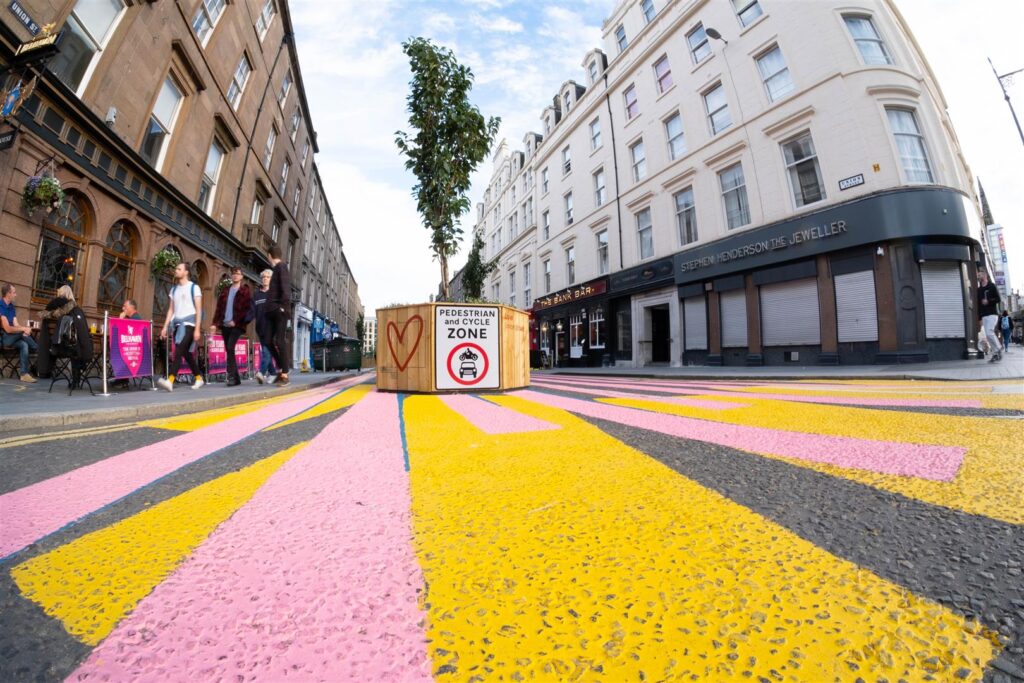 Planning out of a pandemic
Earlier this year, Dundee City Council launched its £2.46 million Spaces for People project in partnership with Sustrans Scotland.
As with all Spaces for People projects, temporary changes in Dundee are aimed at supporting physical distancing and active travel during the Covid-19 pandemic.
So far, sections of The Esplanade and Douglas Terrace have been closed to motor traffic to provide additional space for people to safely walk, wheel and cycle.
20mph speed restrictions have also been introduced in key locations throughout the city.
The most dramatic and celebrated temporary intervention thus far installed, however, is the opening of Union Street to people on foot, bikes and wheels.
The case for Union Street
Union Street is firmly in the heart of Dundee, and is host to an array of independent businesses and traders.
It is also a popular destination for people looking for something to eat or drink.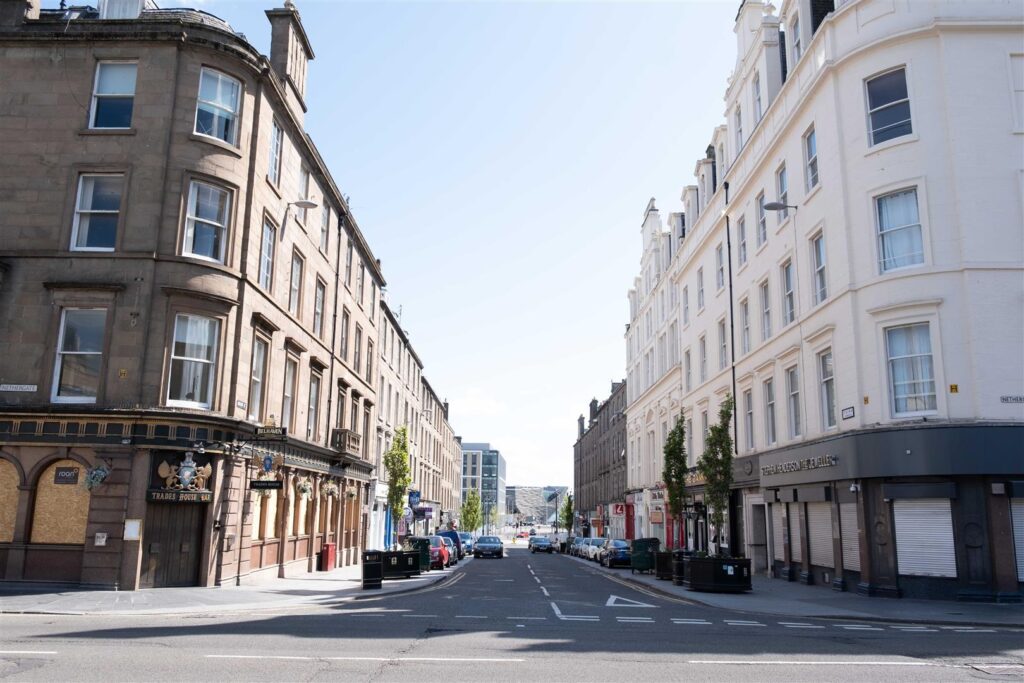 Prior to the current interventions, parked cars either side of heavy two-way traffic made Union Street a treacherous route to cycle, with limited space for people walking or wheeling to get around.
The combination of a predicted return to heavy footfall and existing narrow pavements prioritised Union Street as an essential location for the council's Spaces for People measures.
An inspired space
Following discussions with local business owners, a comprehensive plan was drawn up to close Union street to non-essential traffic.
This would allow people to walk, wheel and cycle comfortably and safely, whilst still maintaining disabled, loading and emergency vehicle access.
These changes were initially achieved through road signage and temporary cone barriers. These were soon replaced with attractive wooden planters and outdoor seating.
As a final flourish to tie the changes together, an iconic colourful super graphic was installed on the road surface.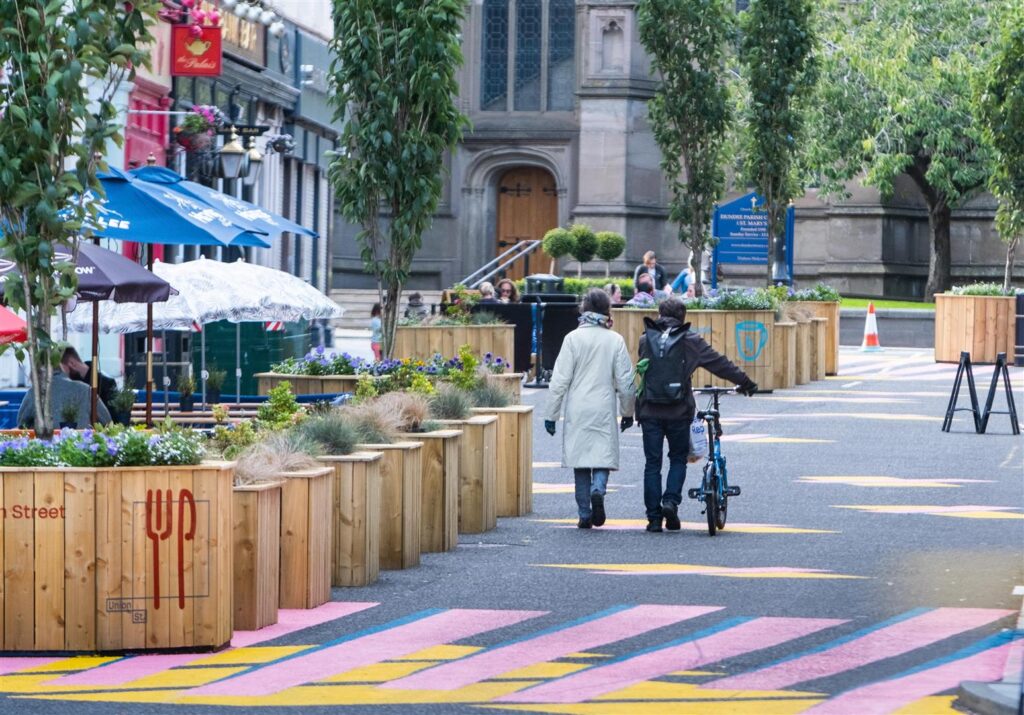 Inspired by the layout and function of a pedestrian crossing, the primary intention of the new creative design is to raise driver awareness to the new priorities of the street.
Graphic Design graduate Callum Laird created the original designs for street graphic.

This was then translated into the real world by Scenic Deisgner Leila Kalbassi, with painting assistance provided by a team of recent graduates and volunteer residents.
The new layout has proved broadly popular with residents, visitors and local businesses, so much so that the lifetime of the temporary changes has now been extended beyond the initial proposed end date of October.
Union Street will remain a walking, wheeling and cycling only zone through early 2021, with an option to further extend the changes.
Community co-design
Ensuring that local business owners were involved in the decision making process was a crucial part of making Union Street a success.
Due to Covid-19 restrictions, online workshops were delivered through Dundee's Service Design Academy.
This allowed key concerns such as maintaining access rights for traders and suppliers to be accounted for and factored in to the final designs.
By taking a co-design approach, the engagement undertaken was more than a consultation, and traders and residents were able to directly influence the outcome on the street.
The provision of outdoor seating areas to restaurants, bars and cafés, has been particularly beneficial in encouraging people to support local businesses whilst still maintaining a safe physically distance.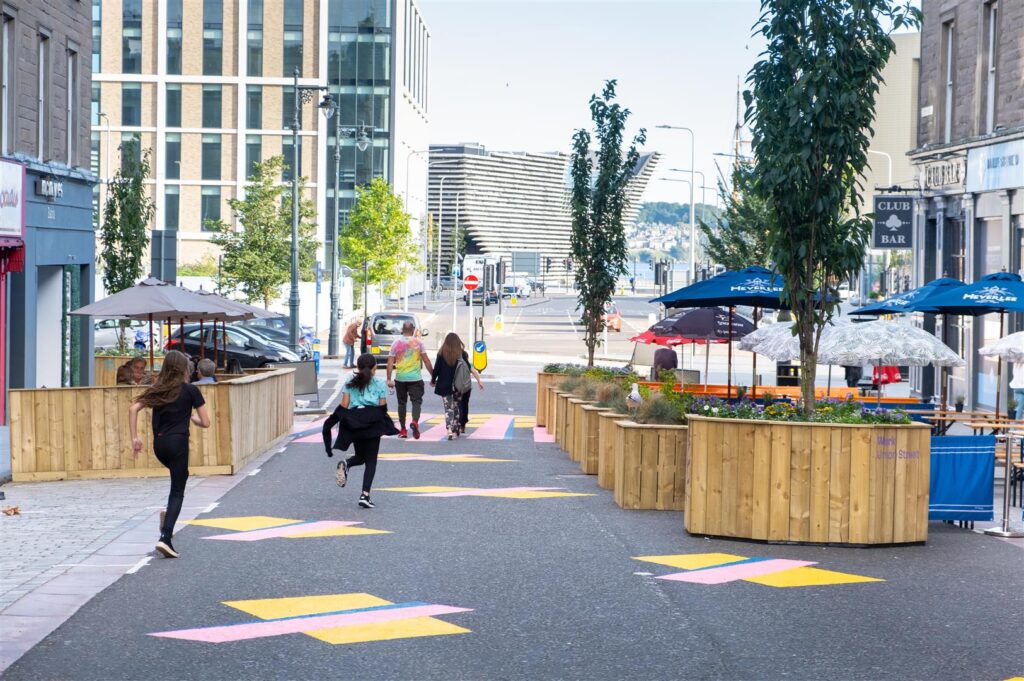 Beautification of the area through the installation of floral planters and street art only further creates a sense of place to attract locals and visitors to the area.
More information on Dundee City Council's Spaces for People programme can be found here.