Dynamic engagement
Monitoring and evaluating the impact of Spaces for People projects is more important than ever before due to the limited opportunity for engagement on temporary emergency measures that are being introduced.
Sustrans offer a broad range of monitoring techniques in support of this to help assess how Spaces for People projects are delivering for communities in response to Covid-19.
In this knowledge sharing session, Sustrans Evaluation Manager, Research and Monitoring Unit, Martin Laban discusses the value of understanding the impact of temporary measures have had throughout the UK in helping to shape future permanent infrastructure.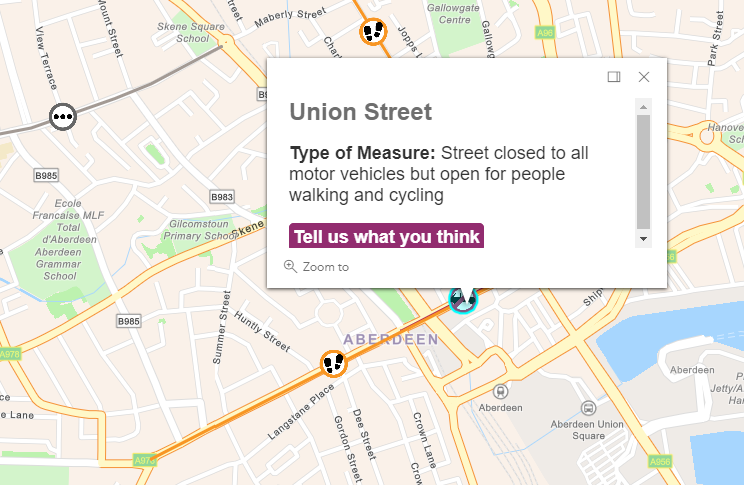 Guidance on standard best practice for monitoring and evaluation can be found here.
Three strategic principles
When it comes to monitoring and evaluation, there are three main strategies that can be empoyed.
Process Evaluation – Attempt to understand why you may or may not have achieved your outcomes. Did it relate to the how it was delivered, factors beyond control of the project, or process and approach used?
Look – Employ visual monitoring techniques in order to see how where your project is and isn't working (i.e. automatic counters, manual counts, video analysis of traffic speed, volume or ATC).
Listen – Engage meaningfully with communities and key stakeholders to understand public perception of temporary measures (i.e. GIS and survey tools). This has been successfully employed within Spaces for People through Commonplace and Space to Move tools.
Questions Answered
Why is monitoring and evaluation important?
What strategies are most effective for understanding Spaces for People impacts?
How can Sustrans help support local authorities monitor and evaluate their project delivery?
What has monitoring and evaluation of Spaces for People interventions actually shown us?
Note: the examples shown are in no way prescriptive and are for information only. Where specific products are shown in this document, this does not constitute Sustrans' endorsement of that product.