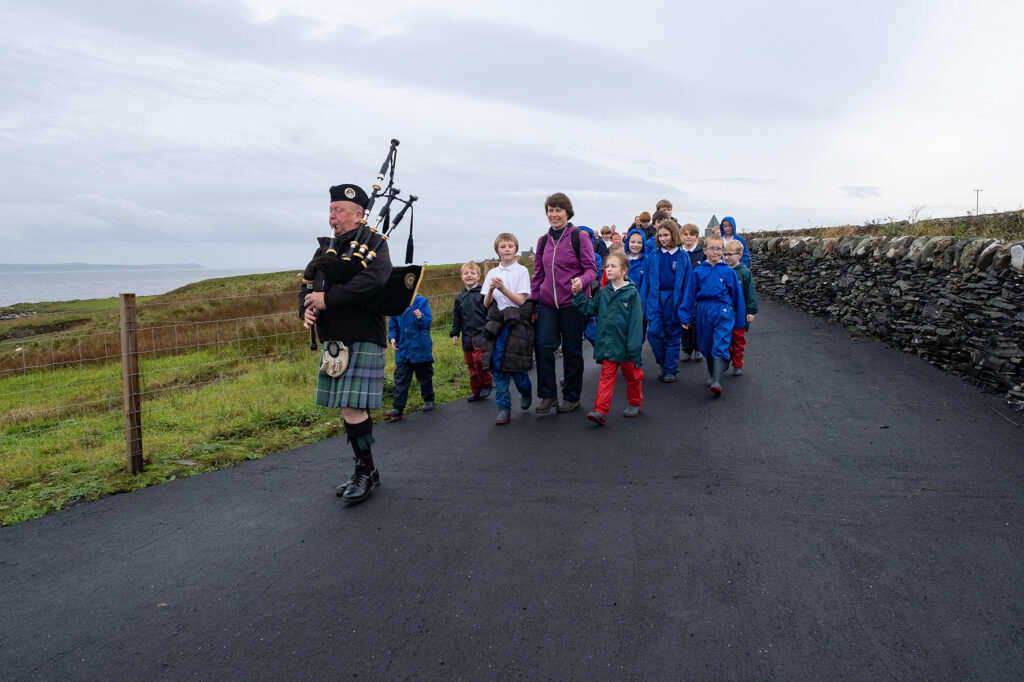 The Loch Indaal Way joins the communities of Port Charlotte and Bruichladdich via a safe, accessible and traffic-free route.

Prior to this, the sole existing link between the two communities was a section of the A847 carriageway, a national speed limit road which offers little protection to those walking wheeling and cycling on the island.
The newly completed off-road route has already proved popular with local residents and business owners, with its frequency of use expected to greatly increase when the tourist season returns.
Making waves in rural design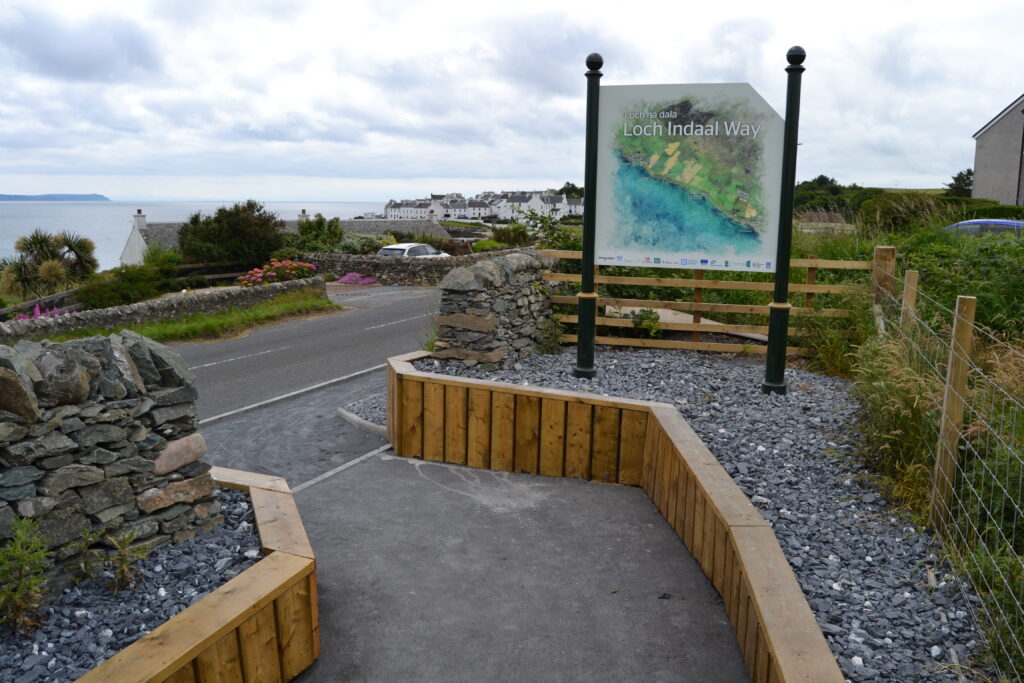 The Loch Indaal Way project was spearheaded by the Islay Community Access Group (ICAG), a local network of volunteers with a vision to increase health and wellbeing through greater outdoor accessibility.
Patrick McGrann, Head of the ICAG, said:
"ICAG, a small voluntary group, worked for 6 years to deliver the Loch Indaal Way. We are extremely proud of our new community asset .To see local folk and visitors of all ages and abilities enjoying access to the countryside is heart warming. We have involved our community throughout and all have ownership and satisfaction of a job well done."

Pat McGrann, Head, Islay Community Access Group
With the support of Sustrans' Places for Everyone programme, ICAG secured the a large part of the funding to deliver the 2.53km off-road active travel route.
Sustrans and ICAG previously worked together to deliver the lauded Three Distilleries Path at Port Ellen, a popular 5km active travel route which takes in the Laphroaig, Lagavulin and Ardbeg distilleries.
Emily Gait, Infrastructure Coordinator for Sustrans, said:
"The Loch Indaal Way is a great example of where a community have worked together to create a project which meets the needs of the people who live and visit the area. Inclusive designs and strong community backing have been key to the ultimate success of this project.

Going forward, we hope this inspires other small communities across Scotland to nurture their own walking, wheeling and cycling ambitions."

Emily Gait, Infrastructure Coordinator, Sustrans
Key features of the route include three upgraded and newly created crossings, as well as landscaping and placemaking initiatives such as the provision of comfortable seating areas and shrubbery sections.

Smooth gradients and minimal placement of steps also maximise accessibility for users with limited mobility.
Change through community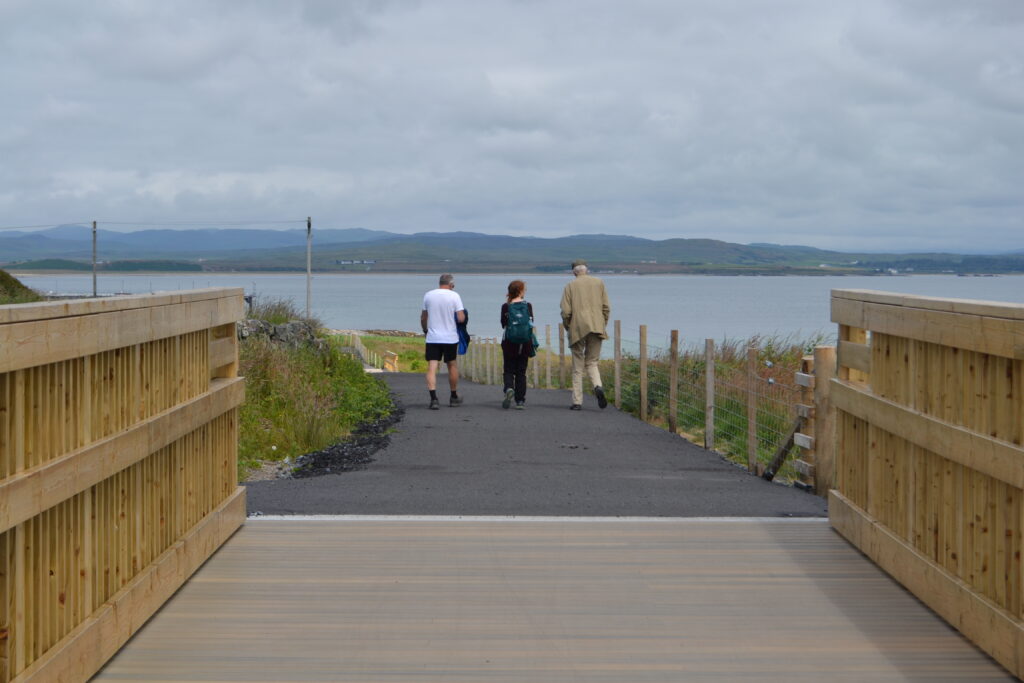 The proposals to create a new off-road walking, wheeling and cycling route between Port Charlotte and Bruichladdich received popular community support from the outset.
Through an proactive and considered period of engagement, ICAG worked closely with local landowners to secure necessary land donations to make the path a reality.

The local Bruichladdich Distillery also became involved in the promotion and funding behind the project, even entering into a maintenance agreement with ICAG to ensure to path stays fit for purpose.
AJ Cunningham, Operations Manager at Bruichladdich Distillery, said:
"Even before the path was finalised, it was being adopted by a lot of locals. I don't think this was out of them being inquisitive, either. It's just a really enjoyable and risk-free way to walk where they didn't have that option before.

I don't think it could've worked out any better unless you took it all the way out to Bridgend!".

AJ Cunningham, Operations Manager, Bruichladdich Distillery
Evident local enthusiasm for project only further increased as construction got well underway against the backdrop of the coronavirus pandemic.
A safer, healthier future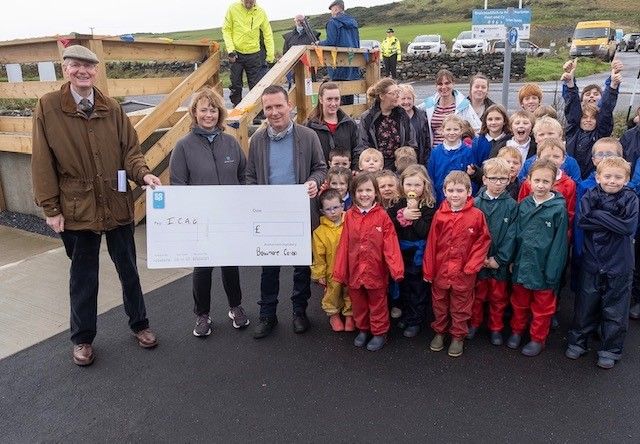 At an opening event in October of last year, children from Port Charlotte Primary School led a procession along the Loch Indaal Way from the Port Ban war memorial to Bruichladdich Town Hall.
They were joined on-route by local residents, members of ICAG and the local Baptist Minister, as well as the musical stylings of the Islay Pipe Band.
After passing several renowned destinations, including the Bruichladdich Distillery, the event culminated in a ceremonial ribbon cutting, which officially opened the route for all users to enjoy.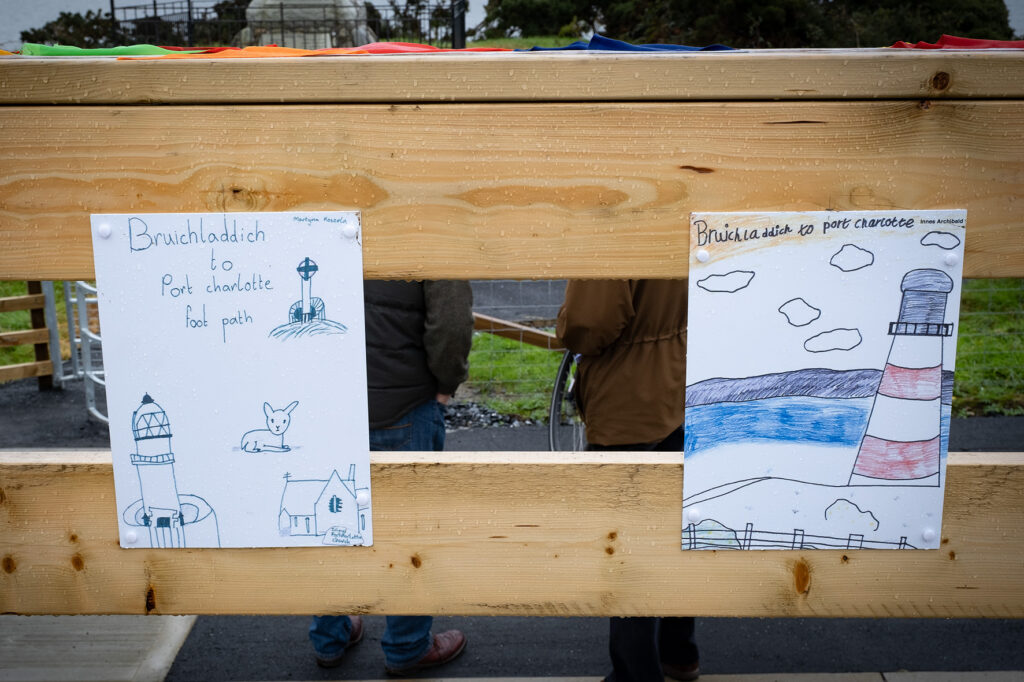 Six months on, and The Loch Indaal Way is now an indispensable part of daily life on Islay.
A local group of swimmers use the path for convenient access to the beach as part of weekly meet-ups.
Attendees of St Kiaran's Church hold fortnightly walks along the path.

A recently installed cycle repair station has also been well received by the community, ensuring daily errands, active commutes and leisure trips are able to continue with minimal disruption.