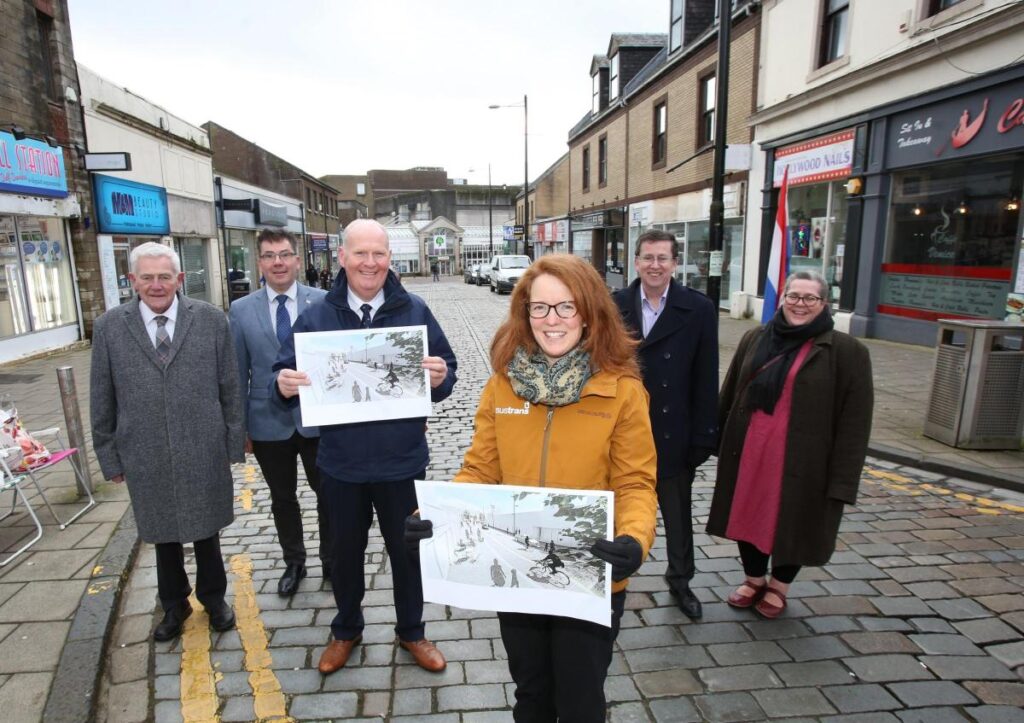 Plans to open up West Blackhall Street in Greenock for walking, wheeling and cycling have taken a significant step forward with the award of £2.1 million of funding from Sustrans' Places for Everyone programme.
Alongside £1.9 million from Inverclyde Council and £580,000 from Strathclyde Partnership for Transport (SPT), this latest award brings the total project cost to £4.5 million.
The designs include widened footways and a dedicated cycle lane in an effort to make West Blackhall Street a more accessible and inviting space for people to spend their time.
The rejuvenated street will be of particular benefit to local retail and hospitality businesses due to the focus on increasing foot traffic to the area.
Putting people first
At present, the segmented layout and narrow footways of West Blackhall Street make the route hard to access for many residents and visitors. A lack of a cycling infrastructure further compounds this issue.
The current proposals will transform the street to create a welcoming environment by realigning the carriageway, widening the footways, adding a dedicated cycle lane and reallocating parking.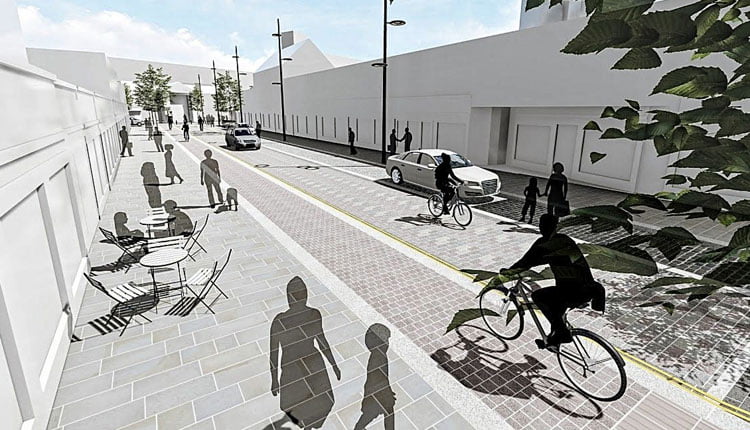 Public realm improvements, including added seating and landscaping initiatives will also contribute towards enhancing the space, and will hopefully encourage those visiting to stay for longer.
A new cycle lane running parallel to the footway has been designed to make local trips easier and safer for residents.
A welcome restoration
On the announcement of further funding for the project, Councillor Michael McCormick, Inverclyde Council's convener of environment and regeneration, said:
"The redevelopment of West Blackhall Street has been a long time coming but now, with the support of our funding partners and the council's contribution, we're able to press ahead with the work and revitalise this important Greenock Town Centre location for locals, visitors and businesses alike."

Once finished, West Blackhall Street will be vibrant and accessible street to encourage visitors from near and far to discover what Greenock and Inverclyde has to offer.

Michael McCormick, Inverclyde Council
As well as improving the look, feel and experience of the street, the designs of the project aim to reduce emissions in area and improve public health through better air quality.
Emily Gait, Infrastructure Coordinator from Sustrans, said:
"We're excited to be working with Inverclyde Council and the local community to get this ambitious project underway. By opening up West Blackhall Street for walking, wheeling and cycling, this project puts the health and livelihoods of Greenock residents first, making the streets safer and more enjoyable for everyone."

Emily Gait, Sustrans
SPT chair of operations, Councillor David Wilson, said:
"Significant funding investment by SPT in recent years has already helped transform parts of the town centre, helping make it a much more welcoming pedestrian, wheeling and cycle friendly environment for local residents, tourists and visitors alike.

These latest plans for West Blackhall Street are another positive step towards improving the town's streetscape and public realm as well as improving connections with public transport and links for cruise ship visitors to the town centre."

Cllr David Wilson, SPT
With all the funding necessary now secured, works on the project could begin as soon as summer this year.