The City Centre West to East Link (CCWEL) will see the east and west of the Capital connected for active travel the first time and will revolutionise the journeys of cyclists and pedestrians for years to come.
Thinking for the future
The CCWEL project will extend from Roseburn to Leith Walk via Haymarket and the West End through the construction of a safe and direct cycle route, as well as significant street enhancements for those walking, wheeling and spending time there.
The main route will consist of two-way segregated cycleways from Roseburn to Haymarket, connecting to one-way segregated cycleways on each side of Melville Street. From Melville Street, two-way cycleways will link George Street with Picardy Place via St David Street, Queen Street and York Place. Public realm improvements, including new pedestrian crossings, enhanced pavements and street trees will also be introduced.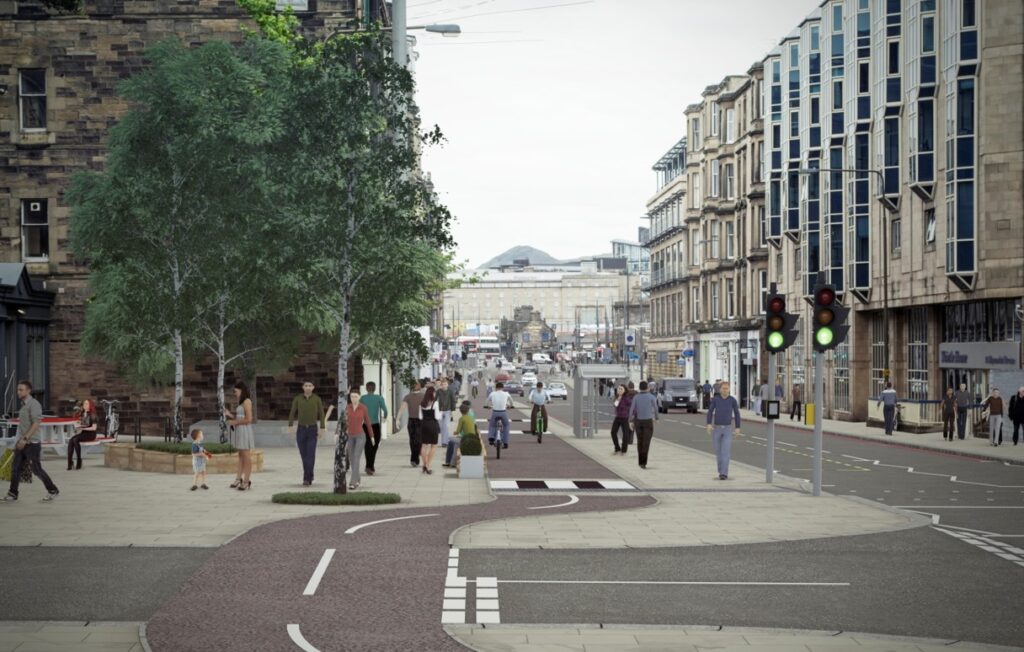 Crucially, CCWEL will also connect with several other transformative projects Sustrans is partnering on with City of Edinburgh Council, including the George Street and First New Town project and the Meadows to George Street scheme.
Cause for celebration
To mark the momentous event, a groundbreaking ceremony took place in Roseburn on Tuesday 8th February.
In attendance, Transport Convener Councillor Lesley Macinnes and Minister for Zero Carbon Buildings, Active Travel and Tenants' Rights, Patrick Harvie joined Sustrans' Scotland Portfolio Director, Karen McGregor.
Children from the nearby Roseburn Primary School, local residents in the area and project managers also gathered for the occasion.
Asked about the project, Minister for Active Travel Patrick Harvie said:
"I'm pleased to see Scottish Government funding enable the construction of the City Centre West to East Link. It's a vital connection which will help people to walk, wheel and cycle in Edinburgh as the natural choice, leading to better health, less congestion and a better environment.

Patrick Harvie, MSP for Glasgow
Portfolio Director for Sustrans, Karen McGregor said:
"The City Centre West to East Link is a major breakthrough for active travel in Edinburgh. Not only will this deliver safe and accessible walking, wheeling and cycling routes for anyone travelling through the heart of our Scottish capital, it will play an important part in connecting communities in the city's western and northern suburbs to make their everyday lives healthier and easier".

Karen McGregor, Sustrans
Like other plans for the city, CCWEL plays a big part in the Council's City Mobility Plan 2020, which envisions a clean, connected and net zero carbon future by transforming the way people, goods and services travel around the city.
Councillor Lesley MacInnes, Transport and Environment Vice Convener, said:
"The CCWEL project is just one of a range of bold initiatives to transform the way we travel around Edinburgh. We are committed to becoming a net zero city by 2030 and a key element of this is encouraging and supporting clean and sustainable modes of transport through projects like this."

Councillor Lesley MacInnes, Transport and Environment Convener
Construction on the project is expected to last around 18 months.