Thinking for the Future
As lockdown restrictions are further eased throughout Scotland, we can begin to look beyond the simple but nonetheless effective space reallocation measures that have already been implemented by local authorities, and instead consider how we can re-imagine the design of our public spaces so as to be more conducive with public health.
In this knowledge sharing session, Infrastructure Officer for Sustrans Dan Jeffs provides a comprehensive oversight of how reallocated spaces in towns and cities can be re-imagined through simple, affordable and inspiring measures.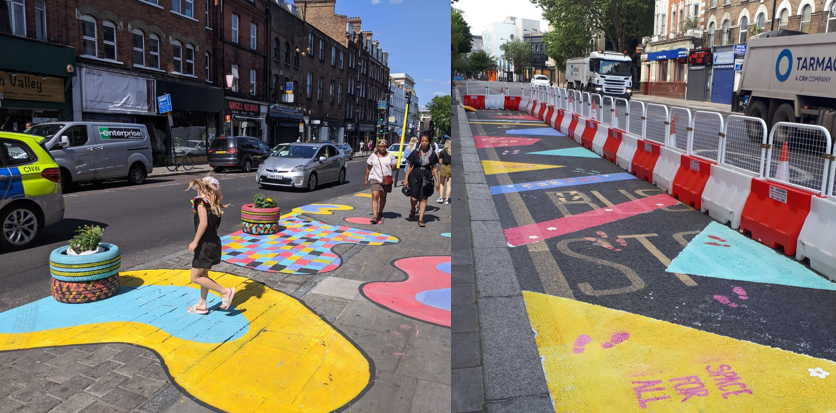 The Case for Change
In all likelihood, there will be an extended period of time within which physical distancing guidelines are prescribed by UK government. This, however, needs to be compatible with people's legitimate needs to move around in order for society to function.
Ensuring people are able to safely access their places of work, receive essential healthcare, exercise in parks, shop for groceries, and get their children to school are all crucial components of how we design temporary infrastructure and utilise space going forward.
In addition to this, and in a broader more holistic sense, how we move around our local areas has a big impact on our wellbeing. Walking, cycling or wheeling in fresh air is not only positive for physical health, but also helps people feel connected in times of increased isolation.
As such, adapting infrastructure to be more visually appealing and meaningful to communities is also an invaluable untaking.
"Streets need to be adapted to play a broader role in people's general wellbeing, by offering a social, cultural and community experience"

Dan Jeffs, Infrastructure Officer, Sustrans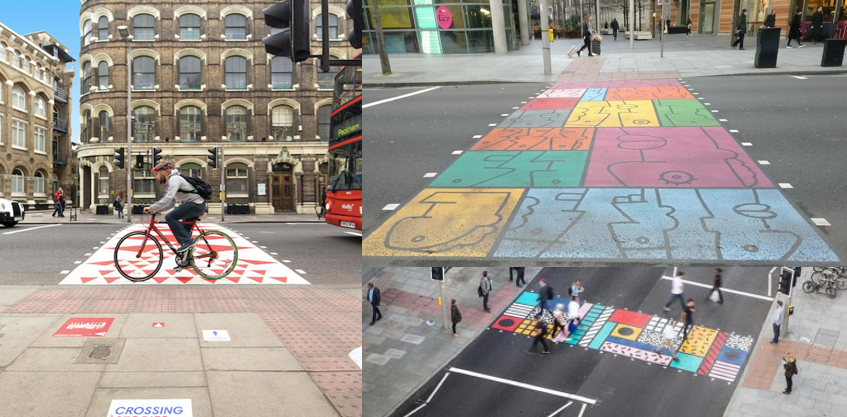 How this can help
Making spaces function better – to assist physical distancing
Helping to moderate driver – safeguarding cyclists and pedestrian using reallocated carriageway space
Creating multi-sensory environments – to support people's well-being by creating pleasant and attractive spaces for people to socialise and feel connected
Designs for everyone – to appeal to a broader range of user groups, defined by age, ability and purpose
Encouraging people to be/stay active – whether through walking, cycling, wheeling or playing
Building cultural/community connections – to communicate a shared sense of place and community
Giving people a greater sense of ownership – likely to reduce upkeep and maintenance
Set out an exciting vision – to be inspired and inspire others
Gauging public response – to assess the climate for broader range of permanent interventions
Re-invigorating high streets and commercial areas – to safely allow people to shop, rest and socialise within these spaces
Note: the examples shown are in no way prescriptive and are for information only. Where specific products are shown in this document, this does not constitute Sustrans' endorsement of that product.