George Street & First New Town
The Heart of World Heritage
One of Edinburgh's best known streets, hosting to banks, hotels, and Scottish institutions, George Street has formed the heart of Edinburgh's First New Town for more than 200 years and helped to establish Edinburgh's reputation as the "Athens of the North". The George Street and First New Town project aims to create new spaces for residents, workers and visitors to rest and enjoy the urban space, while making it easier for everyone to navigate the existing junctions linking to Princes Street and Queen Street.

Space for Work and Leisure
Building on the vision of Edinburgh's City Centre Transformation, George Street and First New Town will create new attractive and accessible spaces for people as they go about their work and leisure. New segregated cycleways will run the length of George Street, alongside increased space for walking and wheeling to ensure the pedestrian space is suitable for all ages and abilities.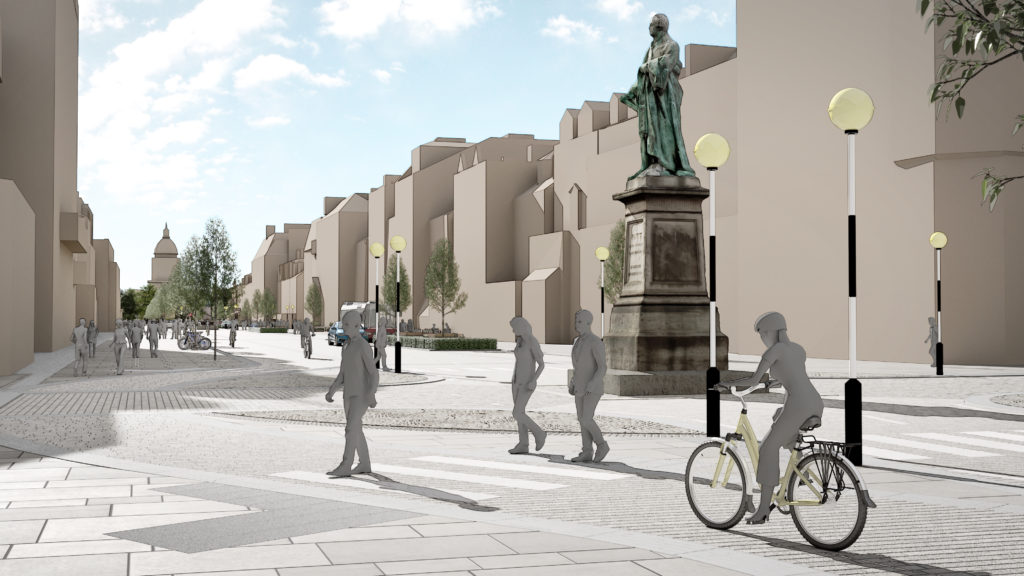 Integrated Network
George Street and First New Town integrates with Edinburgh's wider transport network, with the existing St Andrews Square Tram Stop and Edinburgh Bus station on the wrong, and easy access to both bus and rail networks. For walking, cycling and wheeling, George Street will connect to the Meadows to George Street and City Centre West to East Link Places for Everyone projects and the the city's existing QuietRoute network via the National Cycle Network, giving fast, easy access to all quarters of Edinburgh.
"this ambitious scheme will reinvigorate one of the city's most historic thoroughfares, prioritising active travel and creating liveable, thriving and people-friendly public spaces for generations to come"
Councillor Lesley MacInnes, Transport and Environment Convener, City of Edinburgh Council